This classic book continues to stand as the first region-wide treatment of an immigrant group in the Monterey Bay Region. It follows the immigrants from China and their descendants from the earliest days to the 1980s, chronicling their tragedies and triumphs.
Award-winning
The book not only received extremely high praise from both the Chinese American community and historians generally, it was given the Book of the Year Award by the Association for Asian American Studies.
The Basis for Videos and Films
Film makers Geoffrey Dunn and Mark Schwartz created a video documentary, "Chinese Gold" using the book as their base, and exhibit designers Nikki Silva and Charles Prentiss developed a museum exhibit based on the book that traveled throughout California and was seen by hundreds of thousands of people. Filmmaker Ken Burns used the book in his documentary titled "The West," and documentarian Loni Ding relied heavily on the book when making several of her recent films. The Salinas chapter of the Chinese American Citizens Alliance gave its author their annual award following the publication of the book.
Used in the Classroom
The book was used and continues to be used in college classrooms, including at the University of California, Santa Cruz, and the University of California, Irvine.
The Author
Sandy Lydon is Historian Emeritus at Cabrillo College, Aptos, where he taught for 32 years. The recipient of numerous awards for his teaching, in August 2001 he was awarded the Floyd Younger Award for Teaching Excellence, an honor awarded by the faculty, staff and students of the college. He also received the 2001 Best College Teacher in Santa Cruz County Award, an honor given him in a county-wide ballot by the readers of the Good Times weekly newspaper. Lydon continues to research, write and lecture throughout the region.
SandyLydon.com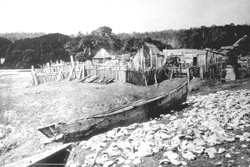 One of the hundreds of rare photographs in the book, this one depicts the shell stand at Pebble Beach that was operated by the family of Jung San Choy.

Reviews
"the prize gift book of the season, outshining the big publishers in handsome production as well as absorbing text."
Constance Casey, San Jose Mercury News.
"more fantastic than fiction-unfolds like a fragile Asian scroll."
Barbara Burdick, Monterey Peninsula Herald.
"[Lydon] writes with clarify, affection, respect, and the interpretive skill of a humanities scholar."
Jade Snow Wong, Los Angeles Times.
"a 15-year labor of love, and a gracefully articulated tribute to the resilience of the pioneer spirit."
John R. Dunlap, Washington Times Magazine.
"any subsequent historical study of the region or of the state that does not embody Lydon's research will be unthinkable."
George Warren, San Jose Mercury News.
"vivid details, vignettes, factual reconstructions and syntheses..Chinese Gold will become a standard text and resource tool for the student of California history. It is also a storybook to be read."
Santa Cruz Sentinel.
"a landmark in California local history"
Clifton Kroeber, Pacific Historical Review.
"a valuable book, retrieving a heroic history that has been lost."
Maxine Hong Kingston.
See What Sandy Lydon's Doing These Days

Order Chinese Gold Here